What better way to celebrate ITU's 100th post than with a comic strip - featuring Charles Babbage and Ada Lovelace (also the only legitimate daughter of Lord Byron), inventor of the original computer no less?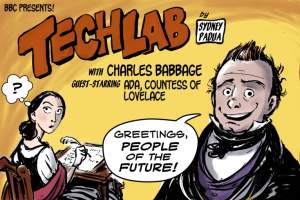 Well, if you've not caught 2DGoggles' cartoon series featuring Charles Babbage and Lovelace (Ada, Countess of) then your first encounter with the couple might be the BBC's Techlab feature strip, which made its way onto their web site on Thursday.

It's strongly suggested to read the strip in full (click on the link above), then read the strip again with Sydney's extra foot- and bootnotes on his web site. And after you've done that, go back to his first comic and read them all! It's my new favourite comic strip alongside longtime geek favourites xkcd and pennyarcade - and what's great about Sydney's web site is that she also has little featurettes and behind-the-scenes explanations of how she puts her comics together alongside the finished strips.

And with comics featuring cells like this:


You really do owe it to yourself to take the time to read through the lot... Right after you roll into work on Monday morning (I won't be held responsible if your work Internet privileges are rescinded ;)
Have a good weekend all!