With a forthcoming EP on the cards, recent events could prove to be another masterstroke of marketing genius from Radiohead - or at the very least, a nod to the darknet release scene which has been around since the days of BBSes. Either way, one band is once again making waves across the Internet...


It hasn't escaped many people's attention that a new Radiohead single, "These Are My Twisted Words", was leaked onto the web on the 14th of August. One of the first places for it to crop up was on the private BitTorrent trackers; What.CD's entry for the track currently has over 2,400 discrete downloads of the .torrent.


The filename of the track itself? "01-radiohead-these_are_my_twisted_words-(advance)-2009-woi.mp3". "woi" stands for WallOfIce, as detailed in the release's accompanying nfofile. (update: what appears to be vaguely official artwork can be seen on @Yussavoice's twitter profile background...)

Of course, the band has remained staunchly silent on this development - and the silence to some has been a deafening confirmation that they're behind the whole thing. Of course, almost immediately after the track's leak, the release was analysed and dissected by RH fans all over the world. The article on GreenPlastic documents just how many people picked over it with a fine toothcomb, as well as the original author putting forward some of his own theories as to what exactly this 'release' means in terms of marketing and advance notice of a full-blown release.

Radiohead have stated in the past that they won't be doing more full albums for a while, as mentioned by AtEase. York himself said;


"None of us want to go into that creative hoo-ha of a long-play record again. Not straight off. I mean, it's just become a real drag. It worked with "In Rainbows" because we had a real fixed idea about where we were going. But we've all said that we can't possibly dive into that again. It'll kill us."

Although some have dismissed the EP launch as mere hyperbole from AtEase, I believe it could be quite the opposite. Personally, I'm in agreement with the consensus that this is actually a legitimate 'leak' by the band, as the facts are stacked in favour of this once they are examined closely. Why? Well, let's examine the facts:
The release is tagged with a "-woi" groupname, but no prior evidence of this group's existence is available across the Internet, even when using the pre search engines
Using EncSpot, the encoder is shown to be a VERY old encoder called GoGo (a variant of Lame, and not pure Lame itself which the scene rules mandate), as well as having an ID3v1 Genre tag of "Blues"
The domain WallOfIce.com conveniently points to the W.A.S.T.E. store (more below)
The metaphor is strong with this one: not only does this leak coincide with a rumoured EP launch next week, the name "Wall Of Ice" has been interpreted by some to be a veiled xkcd reference, where the cartoon strongly mirrors the band's apparent own sentiments towards the record industry: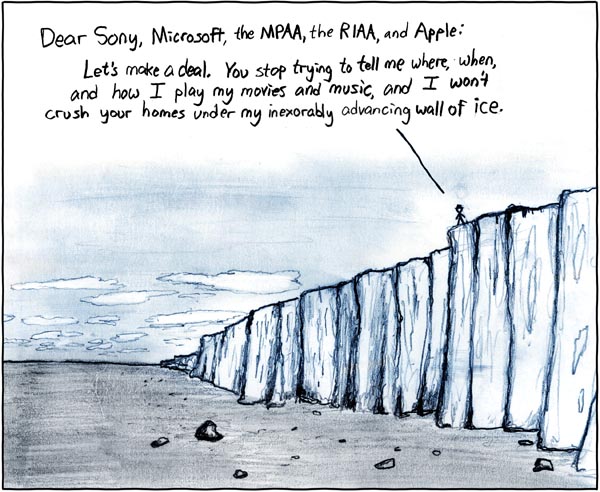 If this isn't enough for you, the domain WallOfIce.com (which redirects to the W.A.S.T.E. store) was created on the 14th of August - the same day as the track's leak - and has the registrant's whois information clearly visible:
Registrant: Versio
Contact: Reshad Bashir () +31.0645252730
Address: Raaigras 271, Leeuwarden, 8935 GD, NL

Reshad Bashir is a sysadmin for
Versio
, so he (or his company) has registered this domain on behalf of someone and his details have been put in there.
Stereogum's already discussed this at length
. No scene group member would be stupid enough to put personally-identifying details into a public whois record. Radiohead haven't registered the domain name directly, but it would make sense not to do so in order to stir up a bit more discussion and controversy over what it exactly means. Of course, this may all just be coincidence - someone registering the domain *after* the leak was made available on the Internet, and not done by the band - but it seems somewhat unlikely.
For the record, the most recent Radiohead scene release from an official group is a webrip of their
Harry Patch tribute single
: "Radiohead-Harry_Patch_(In_Memory_Of)-(Web)-2009-SiREx".
Summing up, these events can almost certainly be taken as proof once again that Radiohead are: 1) masters of drumming up Internet buzz, 2) completely in touch with their inner nerd, and 3) they 'get' the Internet a little more than some might think. They've always been in touch with their online presence; waste.uk.com was registered in 1998, nine months before even I had my own web site. Since then, they've overcome their signing to EMI, they've rapidly embraced the Internet and they've even conquered the question of variable pricing by just forging ahead and doing it off their own backs.
Now they're mimicking the release scene... Perhaps we'll see more future Radiohead releases leaked in the same way? They're certainly not the first band to leak their music via the Web, but it's quite clever of them to do it in such a way that it'll almost certainly fool those who aren't completely familiar with the usual behaviour of the MP3 release scene. Really, you can only commend the band for trying something new - this is guerilla digital marketing, and there's no telling just how much coverage they'll get from this once the mainstream media picks up on this. Personally I'll be very surprised if we don't see an EP release next week.
An aside: I have one problem with Radiohead's digital releases - if they're
still
using GoGo-no-coda, which is based on a version of LAME dating back to 2004, the sonic quality of their MP3s (even at 320kbps) is going to be vastly inferior compared to if they were encoded using the very latest
stable builds of LAME
. For this reason alone, I'll keep on buying CDs and ripping them myself (usually to FLAC).
(PS: if Thom / whoever encodes the MP3s for sale: drop GoGo! It's obsolete and the version of LAME it uses has been superceded. Get
Frontah
, drop in the v3.98 stable build of lame.exe into the Frontah working directory, and if you don't want 320kbps files, use the encoding paramters "-V1 --vbr-new" to encode your audio to transparent VBR files. Mmmm, sounding tasty!)
Update, 16/08/2009: someone at The Guardian has written a woefully mistake-ridden article on the same thing - and stupidly linked to the torrent on the private tracker what.cd as well. Read and enjoy:
http://www.guardian.co.uk/music/2009/aug/14/new-radiohead-song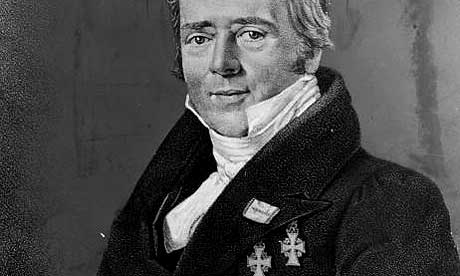 Today marks the birthday of Hans Christian Ørsted, the man who discovered that electricity affected magnetic fields. Or, in other words, the principles on which great things were built and which now (literally) power our civilisation.
The Guardian's article
, 'Hans Christian Ørsted gets Google Doodled', is a great read if you knew nothing about him.
Here's a taster snippet:
Probably not even the physics geeks remember much about Hans Christian Ørsted, although Google's Doodle logo illustrates his key discovery. That is, if you run a current through a wire – in this case, from the battery at the front – then the electricity creates a magnetic field, which will deflect a compass needle.

Thus the study of electromagentism was born, and it's the basis of a lot of modern life: it led to the development of electricity generators and transformers. Remember that next time you flick a light switch.
Right. Who's got 232 candles for the birthday cake?